The Last Temptation of Christ (1988), 7.6 out of 10 IMDB; 83% certified fresh, Rotten Tomatoes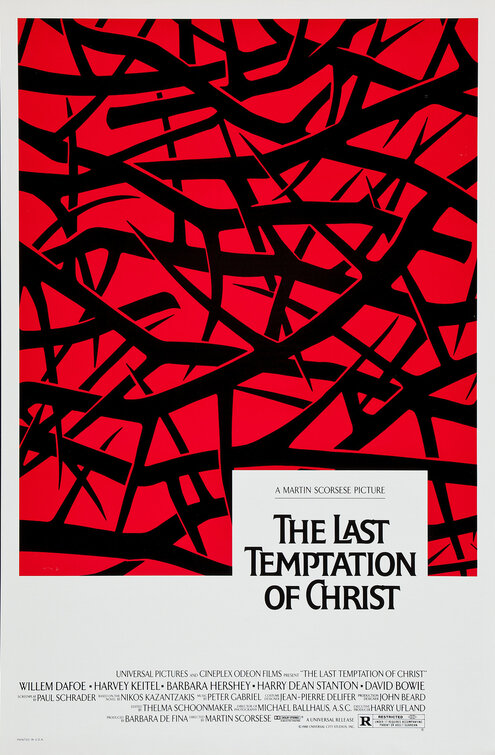 So, recently I've become interested in the work of Martin Scorsese. Okay, really, I've been interested in his work for a long time. I mean, who doesn't wish they were Henry Hill walking through the kitchen of the Copacabana in Good Fellas? I've already made plenty of references on this blog to Sam "Ace" Rothstein's awesome shades in Casino. So yeah, he writes gangster movies. He writes movies with strong, violent, Italian characters who have to deal with issues of family, place in society, religion, etc.
But there is a much deeper director within Martin Scorsese. And we are beginning to see it with the recent release of Hugo. I figured it's time I explore that more nuanced Scorsese as well.
I watched an interview of Martin Scorsese on The Daily Show with Jon Stewart. Scorsese spoke of when he was filming some of his more violent past movies (I believe the specific one he mentioned in this story was The Departed), his daughter would always want to go on set to see filming. Of course, Scorsese dissuaded his little girl from this, considering the violent nature of The Departed. With Hugo, Scorsese said he was making a movie that he had no qualms with his children viewing. Hugo has been a hit thus far with fans and viewers alike. And while I'm no fan of 3D these days, I am quite interested to see a Martin Scorsese movie filmed with 3D in mind all along.
But anyway, I decided after watching his Daily Show interview that I wanted to watch more of the Scorsese movies that seemed to be outside of the norm of his regular body of work. I wanted to broaden my Scorsese horizons. So I figured, why not start with one of the most controversial movies of the past three decades: The Last Temptation of Christ. 
This movie has intrigued me for years. Let's see. Released in 1988, this would make the rerun guy ummm . . . 9 years old. Even at that young age, I remember Scorsese taking a shellacking from Christians everywhere for releasing this movie. Interestingly enough, he envisioned releasing it in the early 80s but felt that he didn't have enough Hollywood cred yet to overcome the public outcry. After Raging Bull, Scorsese's reputation in Hollywood would never be questioned again. And even more interesting is that in that early version, he wanted to cast Sting as Pontius Pilate! (Remember that in the 1988 version David Bowie played the Roman prelate). Anyway, hailing from a more predominantly Roman Catholic area of the world meant that this movie would  draw some negativity (and more interest from me). But the criticism didn't all come from Catholics; Christians all over the nation had issues with the Nikos Kazantzakis novel and the Martin Scorsese movie.
Why would Christians be up in arms about the movie? The novel and the movie focused on the dual nature of Jesus Christ. Christians not only consider Jesus Christ to be human, but they also consider him to be a part of God himself, the Son of God, part of the trinity of divine persons which form the one true God. In all of the previous iterations of Jesus's life on the big screen (Jesus of Nazareth being the one that always stands out in my head), the movies focused on his life as teacher, healer, and God. The ultimate sacrifice is made by Jesus; dying on the cross, sacrificing himself to free those good souls from the gates of hell. In all of these movie treatments (and in the Gospels as well) we see a Jesus who is willing to accept his sacrifice without any issue. Only in certain scenes from the Gospels do we see Jesus actually suffering as a human with the life he must lead and the sacrifice he must make.
But The Last Temptation of Christ tells us of the psychological aspect of Jesus having to deal with this duality. One must remember that it had to be a hard pill to swallow, realizing you would have to die a gruesome death to fulfill the prophecies. We are treated to a Jesus Christ as a human, a man with feelings and desires, even sexual desires. This is where some of the criticism comes into play. I don't need to stress that there is an especially heightened taboo when the words "Jesus" and "sex" are used in the same sentence. The fact of Jesus having sexual relations with woman and fathering children would turn the histories of a number of Christian churches inside out. But this is exactly what the movie wants us to examine. We see Jesus on the cross, being tempted by Satan (in the form of a very creepy girl). Satan proceeds to tell him that God never wanted him to die. He only wanted him to be willing to accept his fate. Just like God did in the Old Testament, he was testing Jesus and he passed the test. We then see Jesus taken down from the cross and we see the life he led. We see him marry Mary, the cousin of Lazarus (yes, the same Lazarus he rose from the dead. Excuse me if I get some of these biblical names wrong). We see him have children. We see him lead a normal life.
But we also see how his saving himself from the cross affected others. We see his apostles who have been suffering endlessly. We see Paul create the myth of a crucified Jesus to teach a moral life. Upon seeing the harm that Jesus's sparring from the cross would have produced, he wishes that he had never saved himself and that he was back on the cross. That is when we realize that it was only the devil tempting him. Thus when Jesus is back on the cross, he can finally say that he has done all asked of him. Seeing Jesus's realization of this on the cross as a conclusion to Satan's temptations is as powerful a movie scene as I've ever viewed.
Oh, another interesting thing that the movie focuses on which brought about Christian criticism is that Judas was chosen all along by Jesus to be the one who turned him over to the Romans. After Jesus realized what had to be done, he arranged for Judas to be the one to turn him over. Thus, instead of Judas being a traitor, he was the ultimate selfless hero. Thus, it isn't a stretch to see that this Judas was one of the most hurt by Jesus saving himself in the devil's scenario.
I don't promise to ever review any movie. I am not going to give a scene-by-scene breakdown of movies from the point of view of the "professional" film critic. And I'm certainly going to gloss over a number of aspects of the movie (mainly because I'm lazy). I really  just want to give one man's opinion. And in my opinion, The Last Temptation of Christ offers a truly fascinating view into the psyche of one of the most important people in all of humanity. While seemingly hitting some Christians below the belt, in the end it only adds to the truly heroic nature of Jesus's sacrifice. Christian and non-Christian alike should appreciate this movie as one of the truly great Hollywood character studies of one of the greatest characters of all time. Some scenes were kind of out there, such as the seemingly acid induced orgy-like party surrounding John the Baptist's ministry and the stage show production of Mary Magdalene turning tricks, but still a great movie and an awesome example of the breadth and scope of Martin Scorsese.
And by the way, what an awesome movie score by Peter Gabriel. You should listen to more of it if you ever get a chance (click here for a sample). Here is a link to the song "It is Finished." Really good stuff.
The Rerun Guy's rating: 4 out of 5 stars
Here is an interesting interview with Scorsese, Willem Dafoe, and others regarding the controversy of the movie: